Landmark Construction… Your Door and Window Contractor in Canton and Stark County!
Windows from Landmark Construction
We are pleased to feature the finest lines of windows available on today's market.  And importantly, choosing your windows is a fairly simple process… as simple as 1-2-3!
Choose your operating style.  We offer a variety of sizes and shapes in many styles, such as Double Hung, Slider, Garden, and many more!
Customize your windows by choosing among interior and exterior colors, custom woodgrain laminates, and multiple hardware finishes.
Choose your glass and grids.  We feature two types of glass along with Between-the-Glass Grid Pattern and Style.
Featured Glass Options
ProSolar® Low E Glass:
Helps with controlled temperature transfer
Facilitates energy savings
Offers fading protection for furniture
ProSolar® Shade Glass:
Offers maximum insulation
Promotes solar heat control
Offers fading protection for furniture
Promotes optimum visibility
Facilitates energy savings
Please note these are Landmark's standard, featured glass options.  Laminated, Tempered, Bronze Tine, Grey Tint, and Obscure options are also available. Call us for more information!
Quality and Simplicity
Our Simonton brand of windows ensures that caring for your windows is simple:
Grids are located between the two glass panes… eliminating the need to dust your window panes.
Sashes tilt and lift out for easier cleaning from inside our outside your home.
Definitely low maintenance… no painting, no rotting, no flaking, no peeling, or no chipping!
Every Simonton window is AAMA Gold certified, with quality built into every detail:
For lifetime durability, a contoured lift rail is molded into the sash.
Movement of the window sash is made easy by the Stainless Steel Constant Force Coil Balance System.  Simply move your window sash to your desired position… that's it.
On Double Hung Windows, Simonton's Denny Clip™ Pivot System ensures the perfect alignment of sashes.
Corners are bonded together by fusion-welded construction.  The resulting one-piece frame features reliable strength and durability for many years.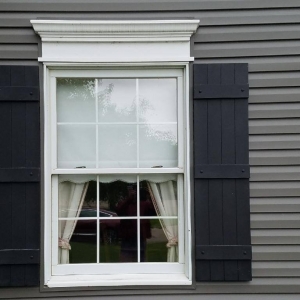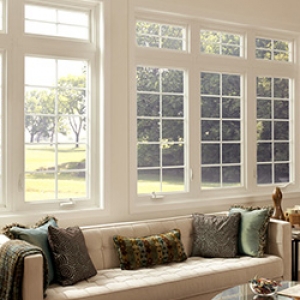 Efficiency
New windows are not just about enhancing the beauty and value of your home.  They must also reduce your energy costs.  And our Simonton windows can be built to meet the ENERGY STAR® guidelines specific to your home's regional location.  Consider the many energy efficient features of these windows:
Lap-Lok® technology – a meeting rail that overlaps and interlocks the sash and creates a virtually air- and water-tight seal.
The U-shaped design of the Intercept® spacer system increases energy efficiency and comfort by keeping glass warmer.
The triple-stepped, sloped Simonton Sill® is better than conventional sills, as it forces water away from the window resulting in less water infiltration.
Simonton's ProSolar® Low E  and Shade glasses offer protection from ultraviolet rays and plenty of insulation (see above).
For more information, please contact Landmark Construction.  You may also download the Simonton "Style Guide" for more details.
Doors from Landmark Construction
Our doors feature many of the same energy saving features that make Simonton the leading name in doors and windows.  Likewise, you may choose your doors in much the same 1-2-3 manner as you choose among our window selections.
Please don't hesitate to contact us with questions!